Activity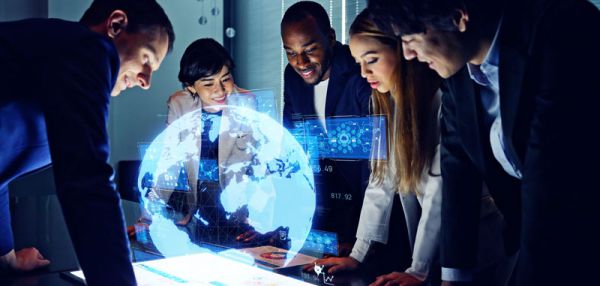 Strategy Committee
The Strategy committee, with the aim of promoting strategic standardization activities, deals with the following matters in the monthly committee:

Development of business plan and mid-term standardization strategy
Establishment of priority issues based on domestic and international trends
Supervision of Working Groups and Advisory Groups
Establishment, integration, separation and abolition of Working Group and Advisory Group/
Responding to requests submitted by Strategy Committee members
Promotion activities for standards
Collaboration with other SDOs
Other matters to be determined by the Technical Assembly
For the discussion and development of future standardization strategies, the Strategy Committee holds an annual committee meeting inviting the chairs of all Working Groups.
Working Groups
Structure of Working groups
There are 18 specialized committees in 5 technology areas based on the layer structure of the communication network, collecting information on the latest technology areas and themes, and setting up a forum for discussion each time.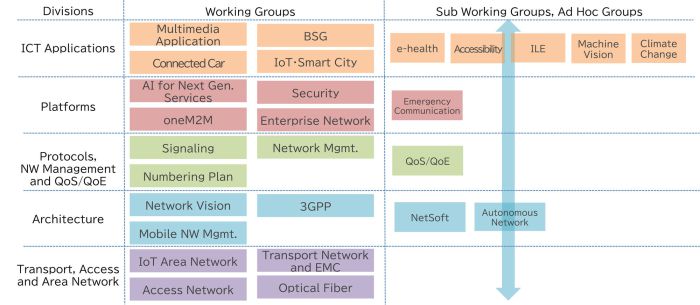 Division/WG

Summary

ICT Applications

Multimedia Application

IPTV SWG, Electronic information health management (e-health) SWG, Accessibility SWG, Media coding and communication SWG, Immersive live experience SWG, and Machine vision SWG (6 SWGs)

Connected Car

ITU (ITU-T SG16, C-ITS) / ASTAP etc. for international standardization and international cooperation with regard to communication technologies for automobiles, next-generation mobility network services, and responses to disasters using cars, etc. We will consider work items etc.

BSG ( Bridging the Standardization Gap )

Focusing on the development of standards for solutions for emerging countries, and proposals to ASTAP and ITU, we are carrying out activities that include the collaboration that is necessary to promote them and the promotion that will lead to future business development.

IoT・Smart City

Professionally share information and discuss IoT (Internet of Things) and smart cities. Promote proposals to international standards for ITU-T SG20 on the broad issues of IoT smart city.

Platforms

AI for Next Gen. Services

We will study for the realization of a next-generation service platform using AI. We will aim to create use cases for consideration.We collect and disseminate examples of AI use and knowledge from all over the world and promote the creation of new services for member companies and the creation of a cutting-edge business environment.

oneM2M

In cooperation with ARIB's response group, we will discuss the policy for dealing with the oneM2M Steering Committee (SC) meeting, and share information and exchange opinions among members on technical issues. We are working downstream to establish the technical specifications created by oneM2M as TTC specifications.

Security

In services related to telecommunications services, we will issue recommendations and technical documents that require international standardization and information sharing in the stable operation of services and security measures that minimize damage to customers.

Enterprise Network

Technology examination, trend investigation and standardization activities related to corporate networks. In particular, we will implement ITU-T and ISO / IEC recommendation and domestic standardization applying SIP of IETF for PBX-PBX interconnection, and domestic standardization of ISO / IEC CSTA recommendation for computer-PBX interconnection.

Protocols, NW Management and QOS/QOE

Signalling

Aiming at the smooth transition of PSTN migration, we will conduct domestic standardization activities related to the signaling method used by NGN etc. It cooperates with ITU-T recommendation, IETF specification, 3GPP specification in domestic standardization.

Network Management

We will contribute to network management related standardization activities and information dissemination of the latest technology.
The committee is composed of two SWGs and mainly focuses on the downstream and research of the recommendations of ITU-T WP2 / SG2 and SG12.

Numbering Plan

We are carrying out international standardization and domestic standardization corresponding to ITU-T SG2 regarding telecommunication numbering plan. We are developing flexible responses to numbering plans and new and revised recommendations for progress and globalization of IoT / M2M services, progress in IP migration of networks, etc.

Architecture

Network Vision

This is a specialized committee that conducts international and domestic standardization activities regarding composition ideas and design methods (architectures) for future networks such as IMT-2020 and Cloud. For future networks, ITU-T SG13 cooperates and for performance and service quality, ITU-T SG12 cooperates.

Mobile Network Management

Cooperation with international standardization organizations including 3GPPs itself, contribution from other committees within TTC, mobile related organizations including ARIB, inter-business related related organizations in important issues related to mobile communications in general We are working on cooperation.

3GPP

Information sharing and exchange on 3GPP standardization, among the specifications developed in 3GPP related to services, architecture and protocols, an interface between wireless network and core network which is not dependent on wireless specification, between terminal and core network Has established as a TTC standard the capability to provide IP-based multimedia services to mobile communication systems called IMS (IP Multimedia Subsystem).

Transport, Access And Area Network

IoT Area Network

We define the network between an IoT device and an IoT gateway as an IoT area network (IoTA NW), and conduct technical research, studies and standardization activities on communication methods and device / data management models between the IoT device and IoT gateway.

Transport Networks and EMC

Regarding standardization of technology to maintain and develop large-capacity, high-reliability infrastructure networks to cope with ever-increasing communication traffic and diversifying service demands with future application evolution such as 5G, IoT, big data analysis and artificial intelligence etc. Lead domestic activities consistent with international trends.

Access Network

We will standardize new technologies, such as further upgrading access networks by accelerating access applications, and applying access network technologies to mobile networks such as 5G. We will standardize on the domestic standardization of optical access systems using metallic DSL (digital subscriber line) and optical fiber that support high-speed Internet access in each home, and propose standardization to ITU-T SG15.

Optical Fiber

Development of national standards and internationalization in two subworking groups on six issues related to the physical layer of the ITU-T SG15 WP2 optical transmission network (land / submarine optical systems, optical components, fibers, cables, facilities, installation, maintenance) We are proposing standardization activities.
Advisory Groups
An advisory group is an activity set up under the Strategy Committee to consider priority issues. Currently, three advisory groups are active, as listed in the table below.
Advisory Group

Summary

Technology Research Advisory Group (TAG)

It is a group whose purpose is to investigate and analyze the status of major forums and activities inside and outside Japan, and to propose areas that should be standardized in the future by TTC. TTC works on the basis of de jure standards, but is examining the area of ​​standardization activities in future TTC by investigating and analyzing the trends of forum standards both in Japan and abroad. Every year since 1994, we have created a forum survey report and posted it on our website.

Global Collaboration Advisory Group (GCAG)

This group is examining TTC's future standardization strategies from an international perspective in order to strengthen international collaboration in standardization activities. Discussion and research on drafting of domestic contributions by TSAG related to ITU Ideal way of cooperation with organizations other than ITU (GSC, CJK, ETSI, IEEE etc.), examination of coping policies, information sharing on organization, examination trends, etc.

Capacity Building Advisory Group (CBAG)

This advisory group was established to gather knowledge and find solutions from various stakeholders such as SDOs, industry and academia for various issues related to human resources and activities for standardization. During the period of activities from April 2023 to March 2024, the following deliverables will be developed.

Survey and systematization of human resource development efforts in standardization.
List of competencies to achieve effective standardization activities.
Library of best practices in standardization
Action plan including educational programs to improve standardization activities for stakeholders
(as of​ April 2023)