Organization
TTC's organization is composed of three functions: administrative management function, standards development function, and planning and strategy function.
Organization structure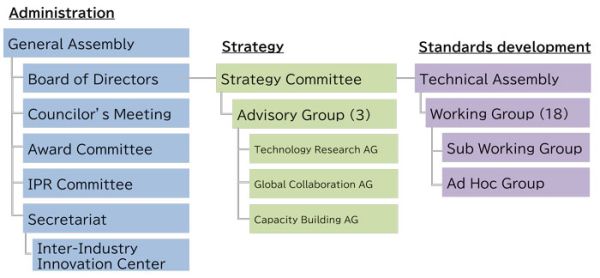 Roles
General Assembly

The General Assembly is the highest decision-making body in TTC and is responsible for appointing the member of the TTC Board, approving the balance sheet and statement of changes in net assets for the year, and deciding on changes to the articles of incorporation.

Board of Directors

The Board of Directors is the executive body of the General Assembly and makes decisions on the operations of the TTC.

Councilor's Meeting

The Councilor's meeting reviews the standards development procedures. And it also replies to requests for consultation from the Board of Directors.

Award Committee

The Award Committee selects candidates for the Information and Communications Technology Award (Minister of Internal Affairs and Communications Award) and the TTC Chairman's Award, and reports to the Board of Directors.

Secretariat

The Secretariat supports and assists TTC members to work effectively in the TTC.

Inter-Industry

Innovation Center (I3C)

The Inter-Industry Innovation Center (I3C) investigates emerging issues and innovation trends across industries and examines strategies for the development of industries in the information and communications.


IPR Committee

The IPR Committee prepares policies and proposed revisions to the IPR of the TTC standards and submits them to the Board of Directors. It also collaborates in the IPR field with relevant SDOs and conducts surveys and studies on IPR trends.


Technical Assembly

The Technical Assembly deliberates on standards for information and telecommunications networks, and conducts surveys and research related to information and telecommunications networks. The Technical Assembly members vote on the draft standards prepared by the Working Group and decide on the adoption or rejection of the proposed standards.

Working Group

The Working Group is the main body in the development of standards and conducts international standardization proposals and national standardization activities. It also serves as a forum for information gathering and discussion on emerging technologies and the latest trends.


Strategy Committee

The Strategy Committee formulates strategies for future standardization activities of the TTC, including the formulation of the TTC's medium-term standardization strategy, establishment of priority issues, consolidation and abolition of Working Group, and international cooperation activities with standardization organizations.

Advisory Group

The advisory group is established under the Strategy Committee to review priority issues. There are three groups: technical research and international collaboration, and capacity building.
(as of​ April 2023)