Greeting from the President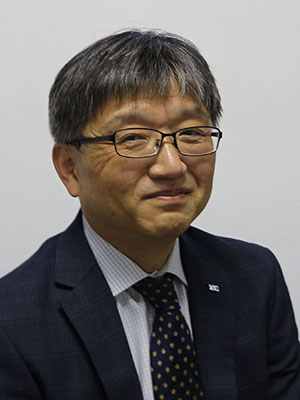 The Telecommunication Technology Committee (TTC) is a standards development organization (SDO) that contributes to standardization in the information and telecommunications. We are committed to developing and disseminating standards for the development of information and communications technology and its industries.
Achieving efficient and stable operation of communications services is the fundamental objective of standardization in information and telecommunications. For interoperability and interconnectivity of networks and terminal devices, we have developed rules for both hardware and software. The results of the standardization have connected people all over the world and supported the development of communication and technology.
Meanwhile, in recent years, many industries have been innovating to improve business efficiency and create completely new services by utilizing information and telecommunications. In response to these social changes, TTC is engaged in standardization activities with a view to the future of information and telecommunications networks, which are used in all industries and serve as the social infrastructure supporting economic activities.
From three Technical Committees when it was first established in 1985, standardization activities have now expanded to five technical areas, 18 Working Groups, and 3 Advisory Groups. Furthermore, as cross-industry collaboration among companies expands globally in search of new sources of value, it has become essential for standardization organizations to also collaborate with industry-leading organizations to support companies in their commercialization. In 2011, TTC established the Inter-industry Innovation Center, which has been identifying issues and studying strategies for inter-industry innovation that will contribute to the revitalization of the information and telecommunications fields, and creating new initiatives. At the same time, Working Group is also promoting collaboration with industry associations and other standardization organizations related to the themes of Working Group's activities.
We continue to achieve higher quality standardization activities by strengthening cooperation and complementary relationships among organizations that transcend all boundaries and share common goals.
With the aim of developing and improving the quality of standardization activities in the future, TTC is continuously working on the development of human resource for standardization as an important issue. The issue of developing human resource for standardization is not just a matter of interest for one company but must be viewed from the perspective of the development of industry as a whole. In a rapidly changing society, the competencies required of human resource for standardization are also changing. We gather the wisdom of other standardization organizations, industry, academia, and government, and work to develop the next generation of human resource for standardization, who will not be limited to the standardization arena, but will be internationally active.
In order to strengthen international competitiveness through standardization, it is also important to provide standardization support to small and medium-sized enterprises, which have difficulty in securing human resource for standardization compared to large enterprises. TTC not only provides direct support to SMEs, but also contributes to strengthening international competitiveness through its role as a bridge by creating synergies by matching TTC member companies (many of which are large companies with extensive experience in standardization activities) with SMEs, especially start-ups that are looking to leverage emerging technologies for growth.
Finally, as an organization supported by many companies, we also consider it as our mission to solve social issues that are difficult for individual companies to realize.
We are working on the development of standards for accessibility, including the formulation of guidelines for remote sign language interpretation. These activities have been recognized by both ITU-T and WHO. We respond to diversification, including consideration for the participation of a variety of people in standardization meetings.
We are also involved in initiatives to solve social issues in the Asia-Pacific region using information and telecommunications technologies. We contribute to activities that provide clues to solving social issues in local communities, while gaining opportunities to conduct proof of concept experiments in locations that differ from the Japanese environment.
Aiming for a world where everyone can enjoy the convenience of information and telecommunications technologies, we would like to work together with you to solve various social issues, based on standardization activities.
(as of​ April 2023)