Workshop report with ITU-T Focus Group on Vehicular Multimedia (FG-VM)
TTC supports the activities of "ITU-T Focus Group on Vehicular Multimedia (FG-VM)". The FG-VM was established in July 2018 by the ITU-T Study Group 16 (SG16), and is engaged in activities to identify, organize, and solve issues related to standardization of multimedia related to automobiles.
The second FG-VM meeting and workshop were held from January 23 to 25, 2019 in the TTC conference room. In addition to the participants from all over the world, this time we will have the participation of Chinese car makers, car equipment makers, application development companies, etc., and while staying in Japan, we will obtain information on market trends in China and initiatives for automatic driving. , I exchanged opinions.
After the meeting, the organizer, ITU, gave a thank-you letter to Executive Vice President TTC Maeda. TTC will continue to support the holding of international meetings such as FG Meeting in Japan.
Schedule
Venue

TTC Office

1-1-2 Shiba kouen, Minato-ku, Tokyo 105-0011. Japan

【MAP】

Organized and hosted
ITU-T, Hosted by TTC

Participants

44 people
Event1

ITU Workshop on "The Future of Vehicle Multimedia"

Monday, March 18, 2019 15:00-17:20

Event2

ITU-T 2nd Focus Group Meeting on Vehicular Multimedia

Day 1 January 24, 2019 (Thu) 9: 45-17: 00
Day 2 January 25, 2019 (Fri) 9: 45-17: 00
Program
(Please see "2nd FG-VM Meeting" on the right side of the page.)
Photograph of meeting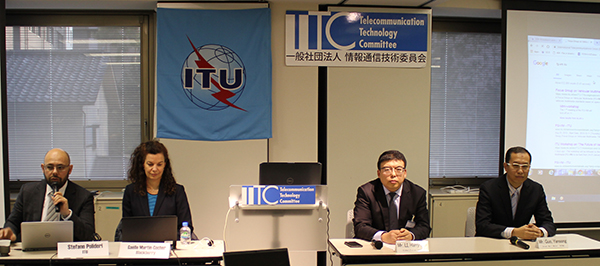 The Bureau
The Meeting

Meeting participants